LGBT Adoption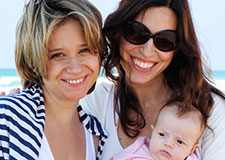 The American Academy of Adoption Attorneys supports parenting, including adoption and foster parenting, by individuals and couples, regardless of sex, sexual orientation, gender identity or expression, marital status, race, color, age, religion, national origin, political belief, or disability, as long as they are qualified and approved to do so under the laws of the relevant state. 
The landmark decision in Obergefell v Hodges, decided by the United States Supreme Court on June 26, 2015, overturned band on same sex marriage.  A companion Michigan case, DeBoer v Snyder decided with Obergefell, where an adoption had been denied to a married lesbian couple as the state did not recognize their marriage, specifically addressed the issue of adoption.  DeBoer upheld a lower court decision that without a legitimate interest, Michigan could not use its domestic relations authority to legislate families out of existence.
Despite this progress, those in the LGBT communities looking to adopt a child still have challenges depending on the type of adoption they are seeking.  This is particularly true in the international arena where several countries prevent adoptions by gay parents.
A second parent adoption is the adoption of a child by a second parent in the home who is not married to the legal parent of the child. A second parent adoption allows a second parent to adopt a child without the biological (or adoptive if the child was adopted) losing any parental rights. Adoptive parents usually have the same rights as biological parents in custody and visitation matters in States that allow for this type of adoption.  A step-parent adoption can be obtained if the parents are married and is recommended even if both parents are listed on the birth certificate as the presumed parents of the child. We know from the Supreme Court case, V.L. v E.L., decided March 7, 2016, which upheld the adoption by a same-sex couple, that a final decree of adoption must be given full faith and credit by other states.
Many of our Fellows have significant experience in working with LGBT families.  Just look for the "LGBT" listed under the individual attorney listing in the member directory.